When is the last time you did something for the first time?
UNCHARTED TARIORY...
Hello, world! Welcome to Uncharted Taritory!
"Uncharted Taritory" takes on the responsibilities of connecting the locals and tourists to the cities culture by escaping the tourist trail and finding fun and unique things to do, see and eat in the city and other good life oriented activities that will give you amazing lingering memories. "UT" takes you to places you never knew you wanted to go, show you things you didn't know you wanted to see and meet people you never knew you wanted to meet! What and where will be next?
Don't just watch us.. JOIN US!
I'm looking for a few fearless friends who aren't afraid to play like a kid again! Are you tired of doing the same old thing every weekend and attending the same events? I know you are, so ditch the itinerary, subscribe and sign up to be guest co-host with me…It's just that easy! scroll down to sign up!
After careful research, consideration, and experimentation with college loans, bills and responsibilities, I have come to conclusion and understanding that Adulthood is not for me, it is the only hood I never want to visit or explore again therefore, I officially resign from Adulthood!
MOVING FORWARD…
*Decisions will be made using the Eenie-Meani- Minie-Moe method, Rock paper scissors or Bubble gum, bubble gum in a dish.
*Arguments will be settled by sticking my tongue out, and no F***'s will be given.
*If you need me i'll be at recess!
Uno and Out,
Taricka
PRESS PLAY
Come on in and see what we've been up to!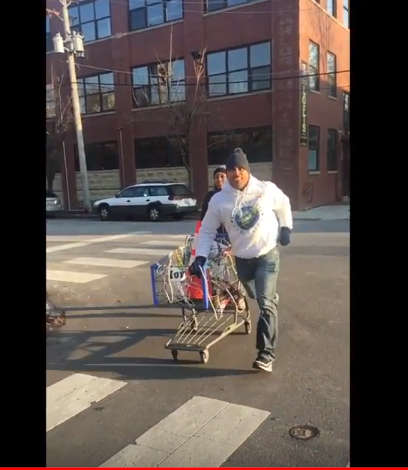 What should I cart theme be next year?
Chiditarod shopping cart food drive race
Have you ever wanted to drink and push a shopping cart while doing something good in the hood? YOU HAVE? well that's me, you, the team at Chiditarod and whole cast of characters that come out each year to participate. Chiditarod is a shopping cart food drive race, (say that fast) the objective is to raise enough food for the Chicago Food Depository. Since you're being generous and donating food, why not grab a shopping cart, dress it up and come race with other enthusiasts to different bars and see who makes it back first.
I will warn you, the carts are SUPER impressive, there was a meat cart…yeah you read right! a cart that served and cooked meat! a FULL BAR CART… you know what, I don't want to give it all way, click below to watch the episode and see for yourself, maybe we'll see you out there next year.
Activate chicago
Playing in the Alley was never this much fun when I was a kid, I'm glad I'm an adult now. ACTIVATE is a series of pop-up arts programs that encourage visitors to see the Loop anew. The event series transforms alleys and other urban locations into creative exhibition spaces that bring artists and the public together for an evening of exploration, interaction and celebration of the arts. Chicago Loop Alliance launched the placemaking initiative in 2014, making the 2018 season its fifth annual. Don't believe me, don't believe you can have fun in the alley after work, well step inside and see for yourself. If you want more information about Activate go to loopchicago.com/activate for more info. August 16 & September 13 are the next two dates, it's free to attend but you will need to RSVP so do it now!!! We'll see you there.
It's Wabbit season and I'm hunting Wabbits.
Hyde Park Brew Fest
The Hyde Park Brew Fest is a Festival that is held in Downtown Hyde Park Chicago. This year guests were able to sample beer and cider from over 50 different brews from Local breweries. An array of local vendors lined the streets along with Chicagoans ready to shake a tail feather, a wing and leg to some serious Heavy Hitters on the 1's & 2's... Terry Hunter, D-Nice, DJ AMPM, Jay ILLA, DJ Jazzy Jeff and many more! Click below to check out some street interviews we did. For more info about the Hyde Park Brew Fest go to hpbrewfest.com.
Who can blame you! SUBSCRIBE to our YouTube channel, just click the "subscribe" button in the right bottom corner to get updates on new episodes, interviews, events and much more!!! If that's not enough click WATCH MORE, to see more cool stuff!
GO
FLY
ROAM
TRAVEL
VOYAGE
EXPLORE
JOURNEY
DISCOVER
WANDER
ADVENTURE
Want to be on the show?
Want your business/event featured?
interested in advertising or partnering with us?
You want to share your thoughts...
What ever you want to talk about, we want to listen!